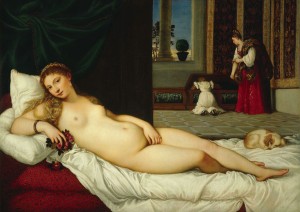 We've seen an increase in nudity and sensuality on TV, in Music Videos, and other entertainment media in the last few years. Should we be concerned? Is America concerned?
STD rates are up in my city and up to 23% higher in my entire state. These rates are the highest among young adults age 15-24. I thought it was bad enough in 2008 when the U.S. Center for Disease Control informed us all 1 in 4 teenage girls in America have an STD. Is America's chillaxed attitude about sex sending young people the wrong message?
My girls went to Italy and France last summer and saw some of the classic paintings and sculptures from brilliant artists like Michelangelo, DaVinci… and those other Ninja turtles. As they gazed at nude paintings in the Louvre and on the ceiling of the Sistine Chapel… my wife didn't cover their eyes.
So when is nudity art… and when is it just a ploy to get more viewers to watch the movie?
Or let me ask another question: Does the increase of gratuitous nudity and sexually explicit material in today's entertainment media have any consequences?
I don't see a lot of young people getting aroused while studying 16th century art like the Titian painting  above. But porn? A rampant problem, with real consequences.
How should parents respond to all this highly sexualized entertainment, especially now that it's just a click away on their kids' phones?
I answer these questions and more in our brand new Youth Culture Window article this week, The Naked Truth.