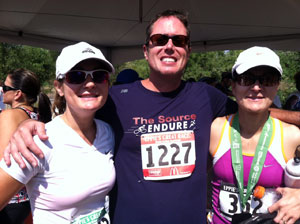 Saturday was a fun day for me as a dad and a husband. I, once again, participated in Sacramento's "no swim" triathlon called Eppie's Great Race… but this time my wife and my daughter did it too.
My daughter Alyssa and I both did the "ironman" (run, bike, and kayak) and Lori ran with a team.
Both girls did better than they thought they'd do. They ran together, clocking roughly 8:30 minute/miles for the 5.82 mile run. Alyssa then hopped on her mountain bike for the 12.5 mile ride, averaging over 17mph (which is good for a mountain bike, especially after a run), then did the 6.35 mile paddle in about 57 minutes, for a total time of 2 hours and 33 minutes. She's a stud!
My time was 3 minutes slower from last year, which I think was miraculous that it was only 3 minutes worse. I am ten pounds heavier and not even close to the same shape. My writing and traveling has been taking its toll on me. The surprising element of this year's race was that my run was actually faster. Last year I averaged 7:26 minute/miles, and this year I actually clocked a little faster (7:22 minute/miles). I felt like collapsing after the run (went out too hard for sure), so my bike and paddle suffered a few minutes. Alyssa actually beat my paddle time.
The whole experience was worth it, seeing my daughter cross the finish line at a time way faster than she expected, plowing through for 2 and a half hours without stopping.
I'm a proud daddy!