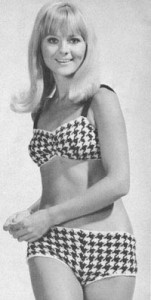 How do most guys respond when they see a woman in a bikini?
That's what a group of men at Princeton sought to discover. In their study they showed men photographs of scantily clad women and observed brain activity.
"They are responding to these photographs as if they were responding to objects."
This is just a snippet of the research clothing designer Jessica Rey shares in this fascinating little YouTube video about the history of the bikini:
This video probably provokes polar responses from audiences, cheers from one end and sneers from the other (the teenage side of the audience). And that's what I like about it. It's heated topics like this that stir emotion and consequently… springboard conversation.
In a world where parents are constantly battling with the way our daughter's dress, I encourage you to show this video to young girls, and then… most importantly… don't preach, but ask questions instead. You might ask:
What did you like about what she said?
What did you not like?
Why do you think women used to cover so much more while swimming?
What changed? Was this a good change? Explain.
Why do you think men's brains react to scantily clad women as if they're looking at objects?
How do you want a man to look at you?
How much of this responsibility is on the woman?
At what point have women become "sexualized"
How can a woman be cautious in the way she dresses?
What about you– my readers– what do you think of this video?