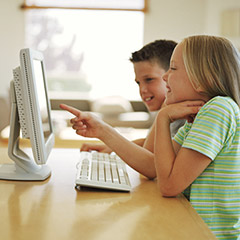 "What can I do to block my kids from wandering onto bad web sites?"
That's the gist of the question I hear at least once a week and at every one of my parenting workshops. I just heard it from multiple youth workers (who happened to also be parents) last month at the Student Leadership Conference 2013 in Dallas.
The answer is never simple, because many parents are searching for a miracle pill, and unfortunately, that's not what their kids need. I don't blame parents—it would be nice to have some magic guardrails keeping our kids on course as they navigate today's tumultuous waters. But the truth of the matter is, our kids need to learn discernment. Life is full of distractions, and young people need to learn to press on when the beautiful voices of the Sirens attempt to lure them to steer into the rocks.
But discernment isn't learned instantaneously. We're fools to think that our 8-year-olds, our 11-year-olds, and yes… even some of our 15-year-olds… are ready to meander through the red light district (like what they might find on the iTunes video charts) without wandering into trouble. So what can parents do to block off some harmful distractions during this vulnerable stage of teaching our kids discernment?
After my recent Lure of the Glowing Screen workshop, a youth worker named Robby asked if I had heard of blocking content at the router level. I had heard a little, but am no expert. He told me about a free resource he uses to block unwanted content at the router level… this means smartphones, iPads, laptops… everything… that are getting service from the wireless router.
Is this foolproof? No. If kids disconnect from the Wifi and browse using their AT&T 4G… then they can access whatever they want. But most kids use the router connections primarily, and all computers have to use it. So this helps with many of the common distractions that can creep into today's American home.
Robby explains how to set this up this free content blocker in your home if you use a router:
Internet security is an uphill battle, especially for Christian families trying to navigate moral perils as well as security threats. In terms of navigation, nothing can replace a good captain steering the ship, but we can help shape the waters to give us help in weaker moments. It is in these moments that Open DNS can be a great FREE tool.

DNS stands for Domain Naming Service, and every Internet service provider uses one. The job of the DNS is to translate web addresses from names to numbers and back again. For example, when you type in thesource4ym.com, your DNS correctly points your browser to 75.98.211.146. And if for any reason that address were to change, your DNS is there to resolve the change for you, so you only ever need to remember the URL. The DNS of overloaded Internet service providers can be bogged down with traffic, so third-party DNS servers started emerging. From there, Open DNS got the idea that not only could they give you faster results, but they also could use their expertise to filter the Internet for families and businesses.

By using Open DNS, you are blocking unwanted sites at the router level, meaning anyone wanting to access blocked material cannot use your router to do so. A word of caution is that cell phones with a data plan can switch off their Wi-Fi, and the filter becomes useless for that device. It is also limited in that you must chose to either block all of a website or none of it, there is no sectioning it off. That being said, here is how to get started.

If you need router specific instructions, please visit and browse opendns.com, but if you're tech savvy, here's what you do: Login to your router. For most models you can type in 192.168.1.1 into your browser bar. If you have never changed the login info, you can google "default (brand name) router login." Once you're in, click through the settings until you find DNS, most likely it's currently set to get DNS automatically. Here is where you have 2 options. If you want to set it and forget it, relying on Open DNS to block what they consider inappropriate, type in 208.67.222.222 in the first field and 208.67.220.220 in the second. Save your settings, and you're done. This option does a great deal to stop wandering web browsers and at a minimum will give good people in weak moments a reason to pause and reconsider their choices. It's not perfect, but they are happy to add sites to the blocked list if you let them know of one that got through.

If you'd like the next level of protection, you'll need to create a free account on their website and point your router to a different DNS (one they will give you). From there you can select your base level of protection and add websites to either a blacklist (always block) or whitelist (always allow). If you have a Net Gear brand router, they partner with Open DNS to give users Live Parental Controls. Their set up process can be started here http://netgear.com/lpc.

In my own life, Open DNS has helped start conversations with people using my Internet as to why certain "harmless" sites were on my blocked list. It has also helped me be more productive by adding my time wasters to the blocked list on my work router. Again, none of this replaces good parenting and talking to your kids about wise choices, but the "blocked site" screen will give the Internet users in your house an added barrier to getting to the bad stuff.

Robby Balbaugh
Thanks Robby!
How about all of you?
Do any of you have any experience with using these kinds of parental controls, especially with younger kids?
How did this work well?
What is the shortfall?
How can we continue to equip our older teens to learn to make good media decisions when they don't have content blockers imposed on them some day?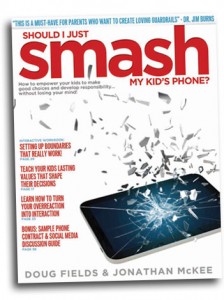 If you like this post from Jonathan, be sure to get his new parenting book, SHOULD I JUST SMASH MY KID'S PHONE?