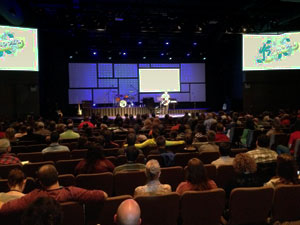 Last weekend was a lot of fun for multiple reasons… but one of the big ones was my time hanging with over 800 youth workers at the YS Palooza event I taught at in Philly on Saturday. Allow me a minute to brag about Youth Specialties (YS) real quick.
I don't work for YS. I speak at a lot of their conferences, and have written a handful of books published by them… but I'm just a "hired gun," so to speak. As a guy who speaks at a lot of different conferences and events, I have to commend YS for the amazing job they are doing helping the front line youth worker.
Take last Saturday for example. At this event they brought in four national speakers and an amazing band for two days of action packed training, snacks, lunch, dinner… which a youth worker could have got for just $69 (early bird) or… if an entire church registered, they could pay $399 and bring as many of their leaders as they wanted (and some brought almost 40 leaders, basically paying a little more than $10 a person). The end result was youth workers getting encouraged and equipped.
Let's just say happy youth workers make me happy!
The main reason I'm commending YS is the feedback I've been getting from the youth workers who attended these events. My Twitter was buzzing for a few days afterwards about the training and the event as a whole. As a speaker, it was a great experience as well.
For those of you who missed it, here's a glimpse at the video I showed at my "Leading Small Groups" workshop, a compilation of some interviews I took there at the event (or you could peek at this one I shot at the one in Chicago). Some fun on the spot advice from you guys on the front lines. I asked them…
"What advice would you give a new small group leader?"
(click here if you don't see the embedded video)
Thanks for what you do for youth workers YS! Particularly you Mark, Doug and Zaugg!  I truly feel privileged to be a small part of your events. Keep up the good work.