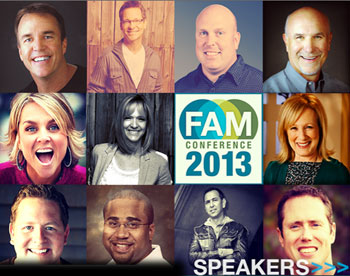 This May will be the second year I'll be speaking at the FAM Conference May 16-18th with my friends Doug Fields and Jim Burns at Azusa Pacific University in Southern California. I've got an exclusive discount for all of you and two FREE registrations to this amazing 3-day event! (WINNER POSTED BELOW)
I'm thrilled to be a part of this innovative conference again this year. I'll be teaching the parenting track, and Doug and I will actually be releasing our brand new workbook helping parents set realistic rules and boundaries in the home, Should I Just SMASH My Kid's Phone! I'll also be teaching a brand new workshop on the same subject as one of the Super Seminars.
The conference offers something for everyone, with creative learning tracks for youth ministry, children's ministry, marriage ministry, women's ministry… and the list goes on. This year's conference has some amazing speakers like Kay Warren (her husband pastors a "small" little church in Southern CA) Doug, Jim… and deeper learning presenters like Megan Hutchinson, Kenny Luck and more. You can check it all out on the FAM Conference web site.
So here's how you can attend the FAM Conference this year:
20% Discount for All of You:
If you're one of my blog subscribers, then you're eligible for a 20% discount off this conference. That means if you register as an individual by April 10th, your early-bird price of $199 would actually be just $159. Or if you register as a student, then you're price of $99 would be just $79. Group discounts apply as well. See the registration page on the web site for all pricing, and make sure you enter the promo code "McKee" to get your 20% discount.
2 FREE Registrations:
I've also got two registrations I'm giving away to one person for this amazing event!  (That way you can bring your spouse or friend.) It's simple. Just use the comment feature below and tell me your name, city, state, and why you want to come to this conference in one sentence! I'll pick a winner at the end of this week and that person gets two FREE Registrations (not including airfare or hotel). My wife Lori and I will take these two people out to lunch one day at the conference as well!
See you at FAM!
WINNERS: Congrats to Jeremy Hetzel, winner of this contest! I look forward to seeing you there and taking you to lunch!!!