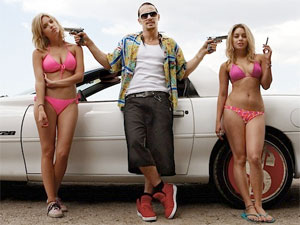 What mark are teen idols like James Franco leaving? Will kids remember him as OZ: The Great and Powerful, or as Saul, one of the pothead leads from the 2008 film Pineapple Express… or maybe as the drug and arms dealer in the new and very R-rated film Spring Breakers, where, among other escapades, he does a threesome with Vanessa Hudgens and Ashley Benson?
Just how great and powerful is the influence of the highly gifted James Franco to young people today?
Millennials might even remember a young James as Daniel in the cult classic TV series, Freaks and Geeks. But most probably first saw him as Peter Parker's friend Harry in the Spiderman trilogy (Franco is real life friends with Toby McGuire). Franco has played a myriad of roles since then, sawing his own arm off (okay, not really, but the real dude did) in the Oscar nominated 127 Hours, and creating super-intelligent chimps in Rise of the Planet of the Apes, both great films.
But I think I remember him best as a guest on the 2008 MTV Awards with his good buddy Seth Rogan (also of Freaks and Geeks and Pineapple Express fame), in one of the most blatant promotions for marijuana I have ever seen. The two joked about smoking pot and lit up a big fatty joint in front of literally millions of fans.
In Hollywood Franco has the reputation of being brilliant (he has degrees from UCLA, Columbia and NYU), hard working, and charitable (he's received the spirit of Elysium award for his work with kids with serious medical conditions). Franco's performance as the great OZ proved not only powerful, but vulnerable and admirable. I think he's an incredible young actor.
But what are young people really gleaning from this young thespian? I mean… seriously. How much effect does it have on young people today when their heroes joke about weed as if it's harmless?
I wish young people weren't getting that message, but the fact is, kids are noticing. Since 2008, 19 percent of high school students grade 9-12 reported past-month usage of marijuana, and by 2011, that number grew to 27 percent. The numbers of students lighting up 20 or more times a month almost doubled as well. Maybe this wouldn't be so scary if we didn't see so much research about the consequences of this kind of use of cannabis.
So are role models like Franco to blame?
I think today's role models should think seriously about what kind of imitatable behavior they are conveying in their roles.
I say "imitateable" behavior simply because, that's often what happens. A film like Spring Breakers, which might fully intend on unveiling shifting gender roles in the millennial generation, actually misses that target, because the message will go over the heads of the audiences who came out to see the eye candy, as baited so by the marketing campaigns. The question is, how many young people really are soaking in the deeper message vs. "Bikinis! Guns! Money! A Lamborghini! Cool!"
Perhaps the artists behind the film need to think past the intended "artistic" message of the film and consider the messages being absorbed.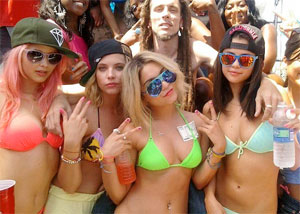 Take Vanessa Hudgens, Franco's costar in the new Spring Breakers. Her fame began with the High School Musical films. She began making strides to shed the mouse ears, as so many of her predecessors have done… and she ended up shedding a lot more than that. MTV describes Spring Breakers as a sex and drug fueled vacation romp. In an interview about the film, Hudgens described her nudity and sex scene as "beautiful and artistic." These young actresses from the film are being interviewed recurrently since the film's release two weeks ago. Everyone wants to know their dirty little secrets. Franco and Hudgen's co-star Selena Gomez told Chelsea Handler, on her late night show, that her dad used to bring her to Hooters as bait for dates. The crowd laughed. All harmless fun… or is it?
Ann Hatheway made similar strides. After Princess Diaries, she began showing up to award shows in see-through dresses, doing sex and nudity scenes… all to show what a serious young actress she was.
And our kids are taking note.
So what are our young people learning from all of this? Are they gleaning the artistic message… or something else. A recent study in The Journal Psychological Science concluded,
"Young teens who viewed movies with sexual content were profoundly influenced by what they watched. They initiated sexual behavior earlier than their peers who had viewed less sexual content, and they tended to imitate the on-screen sexual behaviors they saw — which included casual sex, having multiple partners and high-risk behaviors."
Or how about the message of choices and their consequences… or lack there of. Like in the end of Spring Breakers, where Hudgens' character Candy (SPOILER ALERT) steps over the dead body of drug lord Alien (Franco) to take over where he left off, driving off in the sunset in his Lamborghini. What message does that communicate to young people?
I love James Franco's acting ability. And Anne Hatheway is no joke. Her last two films were amazing. And Hudgens… she'll always be Vanessa Hudgens. But have they forgotten they are role models?
Have they forgotten their Disney audiences are still watching?
Hmmmm….