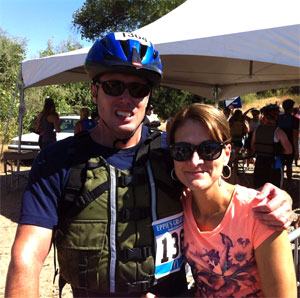 Saturday I participated in my first triathlon. It's known in Northern California as the "no-swim" triathlon because in Eppie's Great Race, you run, bike, then kayak.
Before the race I told my wife, "If I do really good, I'll come in at 2 hours and 13 minutes."
My time?
2 hours and 13 minutes and 14 seconds.
I don't think everyone needs to do a triathlon to prove themself; but I think most of us could probably use a little self discipline in various areas. Personally, I've let my eating, and consequently my weight, get out of hand more than a few times in my life. I was fooling myself thinking that it didn't affect my health and my marriage. Yes, my marriage. Lori has been awesome to me, even when I was more than a little chubby. But the truth came out in a good way last week when I walked in the room in a new shirt and Lori said, "Wow, you really look good. I can't believe how much weight you've lost."
In hindsight, I feel guilty for all the times that she did not say, "Wow, you look really bad. Lose some weight you undisciplined pig!" This positive comment meant so much more! It was motivation for me to continue living a life of self-control.
This race was a fun way to work out with a purpose. The race was a 5.82 mile run, a 12.5 mile bike ride, then a 6.35 mile paddle. I didn't have shot at winning—that wasn't my goal. But I came in 50th out of 716 people doing the ironman (one person doing all three legs). I was 13th in my age division (40-49).
My goals were all time goals. As I trained, I was able to break 8-minute miles on the run, so my goal was to run 7:45 pace for the race. As it turned out, I ran about 7:30 pace. My bike goal was 20mph. I ended up averaging 19.5 (probably a little too tired from the run). My goal for the paddle was to beat 50 minutes. I did under 49 (not counting the run from the bike to the boat).
I only decided to do this crazy venture about a month ago when I began upping my workouts to lose weight. I have a friend who has been trying to talk me into paddling, and when I tried… I caught the bug!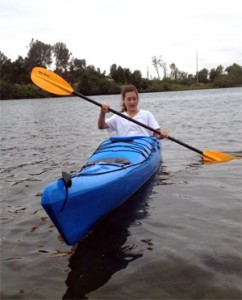 Paddling is a little addicting. I live by Folsom lake and the American River. Lots of places to paddle around here. And when you're out running, biking and paddling… you see plenty of wildlife for someone who lives in the middle of suburbia.
One of the most fun parts of the paddling experience has been paddling with Lori and the girls. They all like it and have paddled with me. We've looked at the ducks and the heron. I won't pretend to know the names of all the birds we see… but it's pretty cool.
I'm going to keep up the paddling and biking, but my next race will be a half marathon in October. Last time I ran it at an 8:30 pace. I want to do it at sub-8 this time! We'll see if I can do that for 13.1 miles.
Sometimes we need to set spiritual goals as well. Last year our family made the goal to memorize Matthew chapter 6. The kids were skeptical at first, but all of them did it no problem. Next month we're setting a reading goal with the book of Proverbs.
What about you?
What are some personal goals you've set for yourself, physically… spiritually?
What are some goals you'd like to achieve?