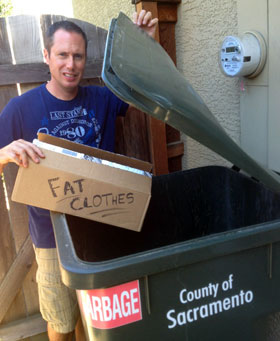 Hi, my name is Jonathan, and I am a glutton.
You wouldn't know it by just looking at me. Sure, there've been times where I was pretty chunky, but it's not like you see me walking around with a turkey leg in one hand and a box of Twinkies in the other. The fact is, over the last 20 years, I've shown very little self-control with what I put in my body.
Enough is enough!
Here's the history of the situation:
I think the only reason I'm not 5'9" tall, 300 pounds is the fact that I'm so active. My wife Lori and I usually exercise, running or biking, 4 days a week. But as I passed 30-years-old, and then 40, all this running and biking couldn't keep up with all the pizza, burgers and soda I shoved into my cake-eater. About 5 years ago I bloated to almost 210 pounds. That's not good for someone my height. So I drastically changed my diet, losing about 30 pounds… then I got rid of all my fat clothes.
This was a smart move! For the last 5 years I've fluctuated up and down about 12 pounds. What can I say… I love food!!!! I crave it every minute of the day! I love restaurants. Eating food with my friends is my favorite pastime.
So my weight yo-yo'd. Every summer I seemed to stay in the low 180's, but then in the winter I would float into the 190's. Shirts would get tighter and I had to even set some aside until summer. But I never allowed myself above about 193… because I'd have to go buy some new fat clothes!
A little over a month ago, near the end of May, I had let my weight get to 194. I told Lori, "Enough." After all… even 180 isn't that healthy for me. Most medical charts show the top of my healthy range to be about 168. I can rationalize all I want and say those charts are bogus, but all I need to do is take my shirt off around a swimming pool and the truth is there for all to see. My 180 pounds is hanging all over the place. And when I let it float up to 194… it's pretty embarrassing.
So June 1st Lori and I adjusted our diet to match our existing workouts. I joined weight watchers, using the handy little phone app, and I set a goal of 165. I haven't weighed that little since before my son was born.
Long story short… it's July 7th today and I'm 177.
Seventeen down, and twelve pounds to go!
In two weeks I'm even doing a little triathlon that's local to Sacramento where you run 6 miles, bike 12 and paddle/kayak 6. I've been training for that hardcore while my girls have been gone in Europe.
Today I'm wearing a shirt from my skinny drawer for the first time. Goodbye 180-190 pound clothes! In a few weeks, 169 is my new ceiling.
(Dang I miss Pepsi!)