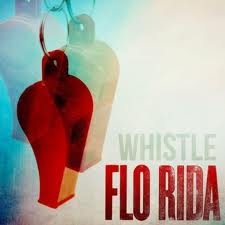 Little Wayne wanted girls to lick his lollipop, now Flo Rida wants girls to "blow his whistle." I'm talking about the new song, Whistle. I was sitting with a parent last week who said that his kids were asking about downloading this popular Flo Rida song. The parent asked me, "Is it clean?"
Well, the song is definitely in the ears of kids today. It is currently #3 on iTunes, and this week it just moved from #58 to #20 on the Billboard Hot 100 (Billboard is always catching up to iTunes). It's another catchy little diddy from the guy who brought us "Apple Bottom jeans, boots with the fur…" The rapper Flo Rida is slowly but steadily releasing hits.
Here's the chorus of Whistle:
Can you blow my whistle baby, whistle baby
Let me know
Girl I'm gonna show you how to do it
And we start real slow
You just put your lips together
And you come real close
Can you blow my whistle baby, whistle baby
Here we go
Ya gotta love how on the sly this guy is. He's had several songs on the top of the charts, each one not really blatantly raunchy, just the typical lyrics today that are talking about sex without really talking about it. Try to decipher these lines after the first chorus:
It's like everywhere I go
My whistle ready to blow
Shorty don't leave a note
She can get any by the low
Permission not approved
It's okay, it's under control
Show me soprano, cause girl you can handle
Baby we start snagging, you come up in part clothes…
So is he talking what we think he's talking about?
RapGenius, a site that provides the meaning of lyrics, reveals the song is about blow jobs, as are most in the blogosphere. But there are those who are trying to argue that it's about blowing an actual whistle.
Really?
Sure, I could write a song about petting my cat after I give her a bath, but is that what teenagers are going to hear? (And is there a chance that I was loading the song with innuendo?)
What are our kids taking away from this song? Is this going to be yet another song that they say, "Dad, we don't really listen to the lyrics. Besides… it's about blowing a whistle."
Yeah… and Lil Wayne's song Lollipop was about candy!
Thoughts? What do you think the song is about? Are your kids listening to it? How should parents handle this one?
MORE ARTICLES LIKE THIS FROM JONATHAN:
Overreacting or Interacting about Rihanna's #1 Song
I'D LIKE TO RECEIVE THIS BLOG IN MY INBOX
READ MORE ABOUT TEACHING YOUNG PEOPLE MEDIA DISCERNMENT IN JONATHAN'S BOOK, CANDID CONFESSIONS OF AN IMPERFECT PARENT