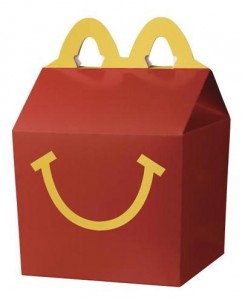 My 19-year-old Alec and his friend Austin came home the other day sick and both holding their stomachs.
"What happened?" I asked.
Alec and Austin both managed a smile. "We tried blending a Happy Meal and drinking it… just for the heck of it!"
Ya gotta love teenage boys. They didn't need a reason; they just thought it sounded fun. Alec had seen the game done at youth group, it's a game idea on our web site called "The Happy Shake." Kids always seem pretty confident that they can down a Happy Meal any way it's served… until they try the Happy Shake.
Yeah… pretty disgusting.
Austin said, "Well, if I'm ever down in the dumps, living in a ditch somewhere, I'll be able to say, 'at least I'm not eating a blended Happy Meal!'"
OTHER ARTICLES FROM JONATHAN:
You Mean… I'm Actually Supposed to Play Dodgeball?
Four Numbers That Will Always Matter in Youth Ministry